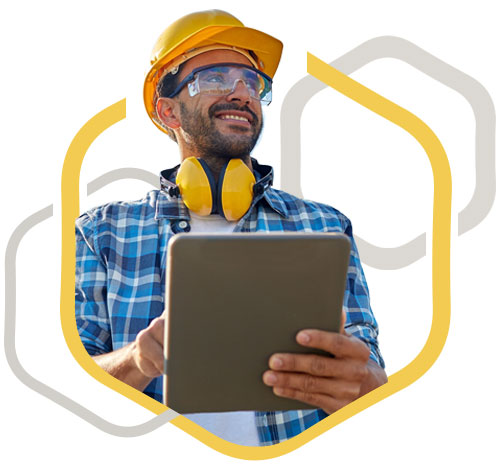 I-4 Humanitad India engineers, plans, designs and delivers end-to-end solutions in a range of business segments including Infrastructure Development, Engineering and Construction, Real Estate, Financial Services, Water and Energy. With a talent pool of experts and professionals, we have been handling major infrastructure projects for the last two decades in Kerala and rest of the country.
In recent times, we see that there's a clear shift towards "smart infrastructure" driven towards enhancing environmental, social and economical performance. Hence, currently, we are driven towards developing Net Zero buildings and iconic landmarks with a clear focus on eco-friendly practices and sustainable development.
Backed by our people's strong technical capabilities and vast practical experience, we have constructed a wide range of projects including development of roads, malls, sports stadiums and large format warehouses. Some of our clients include The LULU Group, Hedge Equities, Flipkart, Mahindra, and LG (large format warehouses).
Well, safety is always our major consideration and we ensure we maintain the highest national and international industry safety standards. We have made it a point to demonstrate our potential to build complex projects of substantial scope, ascertaining the highest safety standards. I-4 Humanitad recognizes that each industry and project is different and has its own set of processes; hence, we provide solutions specific to their requirements within the stipulated time.

So, that's it! I-4 Humanitad India is an infrastructure company that is here to stay and shine.

We Build

Infrastructure development
Bridges
Roads
Wold Class Malls
Industrial Corridor
Amusement Parks
Townships
Indoor Stadiums
Convention Centre
Residential Sports Schools
Happy Homes & Leisure Homes
Bird Sancturies
Football Museum
International Film Festivals
Village Farming
Motor World
and many more...
Our Key People
Mr Sacha Stone
Sacha Stone, one of our directors, is the founder of Humanitad USA. He is a former rock musician and artist.
He established Humanitad in 1999. After conducting a five year diplomatic campaign, he engaged Humanitad upon both the NGO and IGO playing fields as an outspoken advocate of human rights and natural justice.
He has instigated peace initiatives and education programs and has lobbied against human-rights abuses in different parts of the globe and continues to prosecute for the protection of breakthrough innovators, scientists and doctors.
Sacha founded the New Earth Project (New Earth Nation), the world's most integrated movement promulgating sustainable, sovereign and self-determining communities. It operates as a universal trust engaging micro-nations by Treaty and exists outside of fictitious enclosures dreamt up by self-serving corporation-governments and institutions.

Mr Mohammed Salim
Salim Mohammed MA, LLM, MBA
Lawyer and Project Consultant

Salim Mohammad is a practising lawyer specialised in business laws, land laws, constitutional laws and international relations. He is also the legal head and associate director of Humanitad, an NGO from the UK, acting especially as the coordinator of International Tribunal for Natural Justice.
He is also engaged in legal and management consistency activities for some national and international entities like Lulu and Elbit in various sectors like retail, hospitality, industrial, and so on.
Currently, he is the consultant for Lulu's Trivandrum mall project, logistic projects of Kshitij Venture Capital and Hedge Equities in Cochin.
Foreign Direct Investment was permitted in India from 2002. His company has been doing FDI consultancy since then and has represented various international clients and foreign governments.
A well experienced and efficient team works for him for the acquisition of huge land parcels in Kerala, especially in Cochin. He handles land acquisitions for several investors including government bodies like KINFRA. His teams have already completed all the pre-acquisition processing of the purchase of proposed land parcels situated in Cochin near the Coastal Highway.